SPACE Toothpaste ORALPEACE
TRIFE Inc. (Yokohama, Japan https://trife.co.jp/en/) is releasing "SPACE Toothpaste ORALPEACE", oral care products friendly to human body and our environments, on July 7th, 2022, the day of Tanabata star festival.
It has been researched and developed for the purpose of solving the problems of oral care both in space and on earth by green technology and space technology in the 21st century.
"ORALPEACE", which originated in Japan and has been used in various fields such as medical care, long-term care, infection prevention, pediatric dentistry, disasters, and outdoor activities in more than 15 countries around the world, has been made more space-specific.
ORALPEACE has been used in the fields of medical care, long-term care, infection prevention, pediatric dentistry, disasters, outdoors, and pet oral care in more than 15 countries around the world.
Expected to be used in space, with technological innovation from Japan's national research institute, it has been made to meet the space specifications.
To meet the challenges of "effectively prevention of tartar buildups in space life" and "effectively brushing teeth and oral care in space, where water and time is limited", along with the characteristics of chemical-free (no chemical components), plant-based (100% plant components), 100% safe food ingredients and 100% biodegradable (body and environment), Lactic Acid Bacteria Antibacterial Peptide, our patented formulation "Neonisin- e®︎ *" is added in an increased amount.
In addition, natural lemon essential oil that promotes the secretion of saliva, which has a self-cleaning effect, is added to wash away the plaque (a mass of bacteria such as dental caries and periodontal disease bacteria) that causes tartar, and the preventive effect is further improved.
Newly developed natural lemon-mint flavor. In addition, we have adopted the latest space-specific light-resistant and environment-friendly biomass package that prevents the transmission of ultraviolet rays.
We have developed 21st century toothpaste and oral care product, useful for human being both in space and on earth.
As a model to commemorate the 10th anniversary of ORALPEACE Project, it will be released worldwide on July 7, 2022 from Tanabata star festival (originally from Chinese legend, the day when Orihime(Vega) and Hikoboshi (Altair) are connected by the Milky Way Galaxy only once a year).
Expanded at medical institutions, dental clinics, department stores, select shops, outdoor shops, mountain lodges, travel shops, surf shops, employment facilities for persons with disabilities, official online shops, etc., and channels developed by local distributors in 15 overseas countries.
Together with SPEACE Toothpaste. we have released "SPACE Cosmetics FACEPACE" (100ml cream which last for about 1 year / $90 excluding tax) from March 2022. https://facepeacespacecosme.com/
ORALPEACE project, from Japan to everyone around the world, will deliver our product as a CSV (Creating Shared Value) model and social brand whose business itself leads to social innovation.
* Moisturizer
* "SPACE Toothpaste" has increased amount of "Neomisin-e ®*", which is the key ingredient to the conventional "ORALPEACE" by 10% and has lemon-mint flavor with the aim to increase the secretion of salvia, which has a self-cleaning effect on dental plaque. Also It is an upgraded model that adopts the latest biomass package with space specifications, light resistance and low environmental load.
* "SPACE Toothpaste" is not the selected on-board product to ISS by JAXA in 2020. It is a newly developed product in 2022.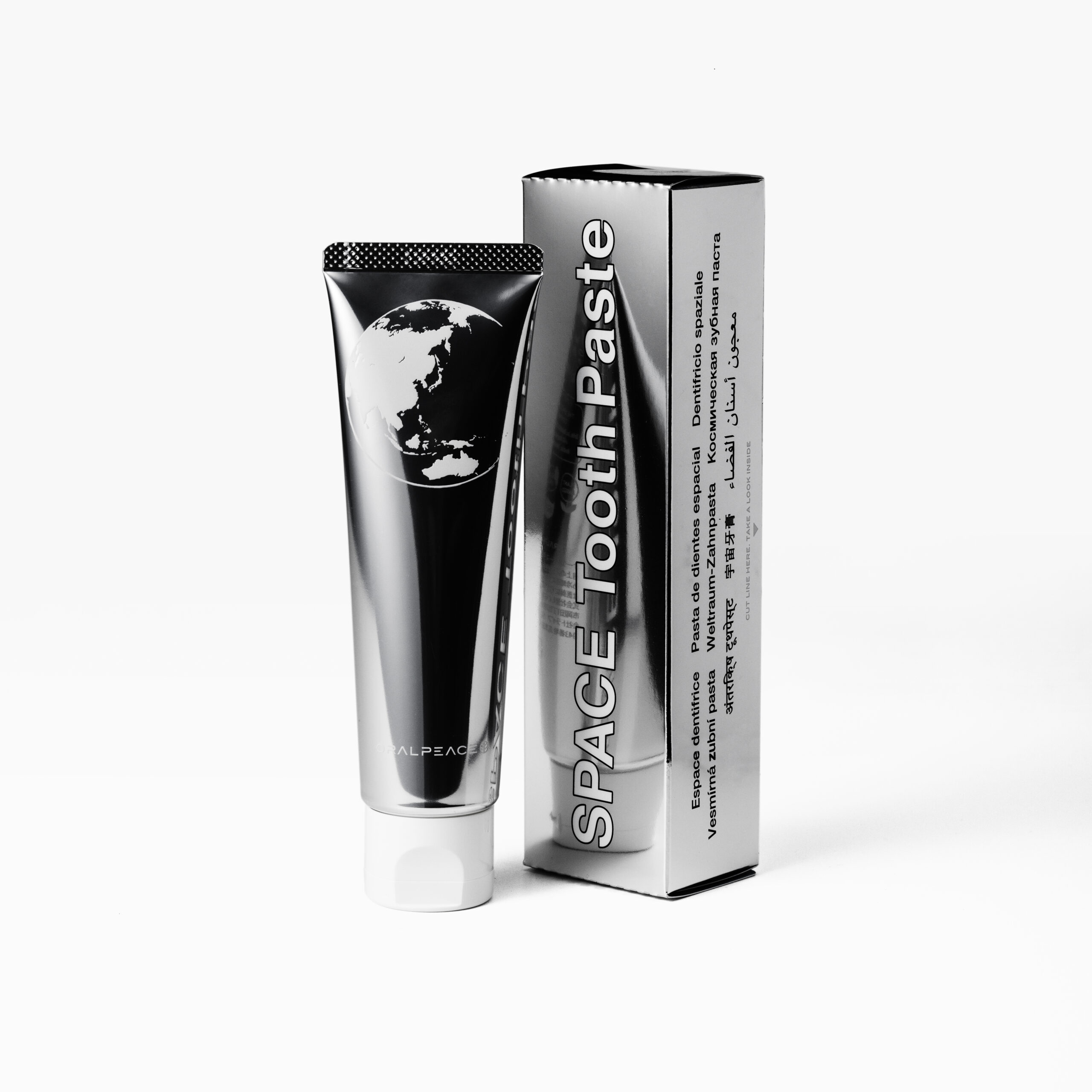 1. Gender-age-free, toothpaste and oral care for all humankind.
For the health of mankind and the beautiful earth. For daily toothpaste and oral care. With a loved one. With the whole family. For newborns, infants, pregnant women, dry mouth, nursing care, hospitals, disaster sites, outdoors, and space travel.
2. Lactic Acid Bacteria Antibacterial Peptide, patented Formula "Neonisin-e".
Based on 30 years of research on lactic acid bacteria biotechnology by Professor Emeritus Kenji Sonomoto of Kyushu University, he invented it in collaboration with Kyushu University, Kagoshima University, and the National Center for Longevity Medical Research. Research and development by project members such as Doctor of Medicine, Doctor of Engineering, Doctor of Agriculture, Doctor of Pharmacy, Doctor of dentistry, Doctor of veterinary medicine, and clinician.
3. Chemical-free & plant-based.
Achieving chemical-free oral care products through innovations in antiseptic and production technology through green technology in the 21st century. Contains no combustibles or chemical components such as alcohol (ethanol), which is a restriction component for spacecraft loading. Low irritation and low environmental load. Green oral care that has greatly evolved in the 2020s.
4. Produced only with food ingredients that are safe to swallow.
We applied lactic acid bacteria antibacterial peptide research to control bacteria with bacteria from Kyushu University to solve the conflicting problem that even if swallowed, it does not affect the intestinal bacteria while approaching the bacteria that cause problems in the oral cavity. Development of a highly effective oral hygiene agent that is safe to swallow has been realized.
5. A Japan-made product using space technology.
A Japan-made product of world-class quality, which was inspired by the world's great outdoors that are reminiscent of space and developed using the advanced research results of Japan's national research institutes including Kyushu University. Verified in various pressures, dryness, and usability of spacecraft at the foot of Mt. Yatsugatake, which is the site of space life demonstration experiments, and in airplanes during high-altitude flight in the Pacific Ocean.
6. Products that are friendly to the natural environment of the Earth.
Only using sustainable plant-based ingredients to suppress CO2 emissions and offset carbon, the product is highly biodegradable in the natural environment to ensure microbial ecosystems are protected in rivers and soils. Designed for space missions, the packaging is light resistant and made using environmentally friendly biomass container. The container is designed to hold a large volume of the product to reduce the amount of packaging production as well as consumers' purchase frequency, which results in less environmental impact and household expenditure.
7. Novel design for space missions.
Designed by Noriteru Minesaki, a leading art director of Japan. In outer space with strong rays of light, black-printed letters let ultraviolet rays through and deteriorate the content. Therefore, only white letters are used on the silver-colored base that reflects light. Universal design that is easy to understand for all people around the world.
8. For people around the world who share the same values.
For those who would are conscious of heath and the products we apply inside our mouth, those who would like to conserve nature and save the Earth for the future. For those who are interested in oral care products utilizing the latest space technology.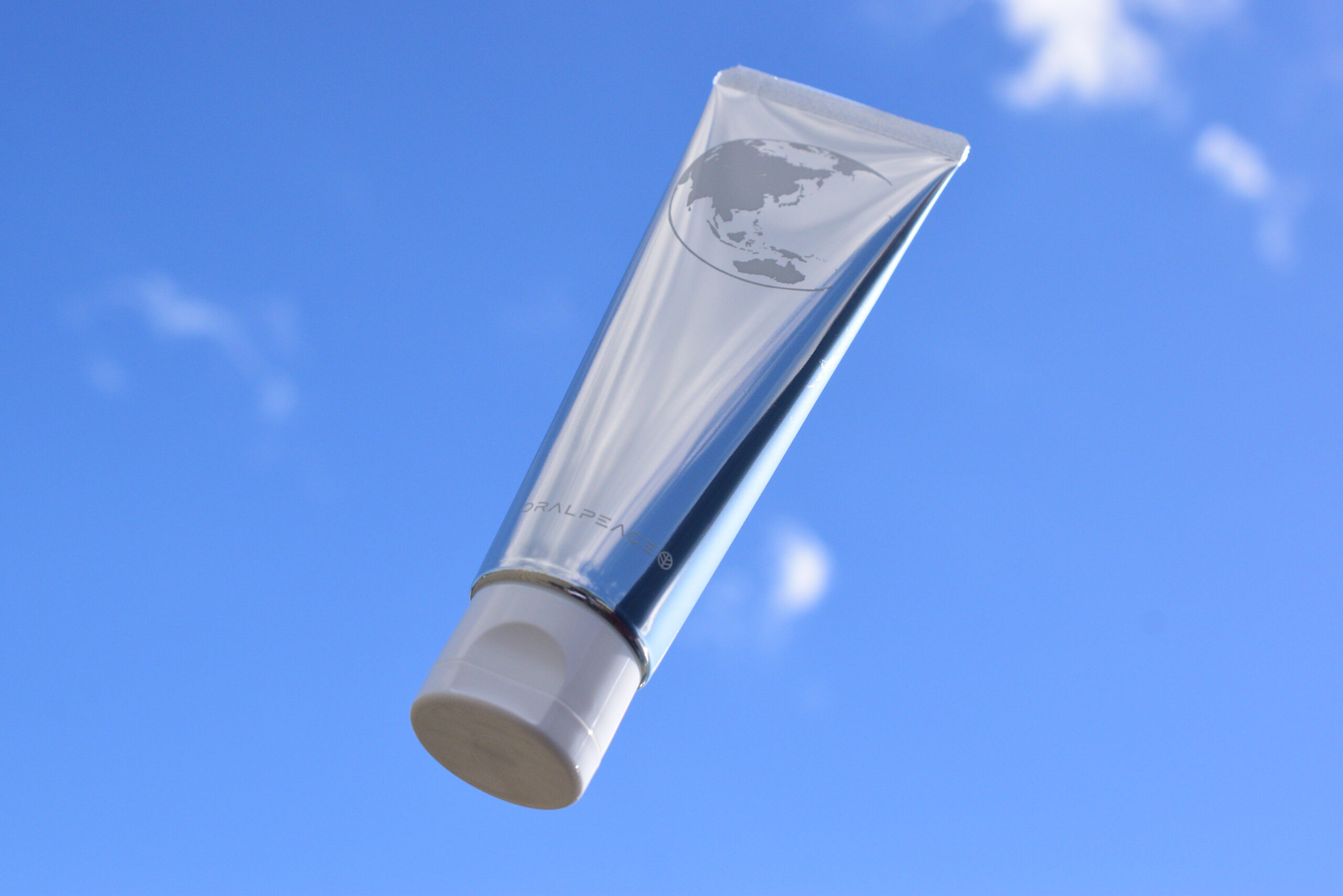 who like space and nature

who want to use safe products with high preventive effect

who are interested in design

who care about what they use for their body

who like environmentally friendly products

who want to use it in space

who are pregnant or breastfeeding

who don't want to take chemicals every day

who want to choose products that are recognized overseas

who want to use oral care products using patented research and technology

who like products that make you feel kind when you use them

who want a toothpaste that are also used in the International Space Station!
who want to keep their mouth healthy

who want to use safe oral care products

who have an unpleasant mouth when waking up in the morning

who love mountain climbing

who want to use with an electric toothbrush

who do not want to pollute mountains, rivers and the sea

who like people with clean teeth and mouth

who like products designed to enrich everyday life

who prefer products with a solid research background

who carefully read the ingredient list of the product and choose what to put in their mouth

who want a toothpaste can be used by the whole family without purchasing multiple toothpastes for adults and children
who are looking for gifts for loved ones

who is looking for oral care products that meet the needs of medical and long-term care facility.

who is looking for products that can also be used in the event of a disaster or in an environment without water

who want to whiten their teeth without scraping enamel

who like natural and gentle taste

who want to prevent bad breathe

For baby tooth care

who do not want to scrape the enamel of their teeth

who do not want their children to ingest chemical ingredients

who want to brush their teeth in nature

who see value and sympathy for social brands

who think that a good product is not based on advertisement but on an actual content of the product

who want to use products that are available in reliable hospitals, dental clinics, department stores, etc.

who want a product that can feel the effect even if it is a food ingredient or a safe ingredient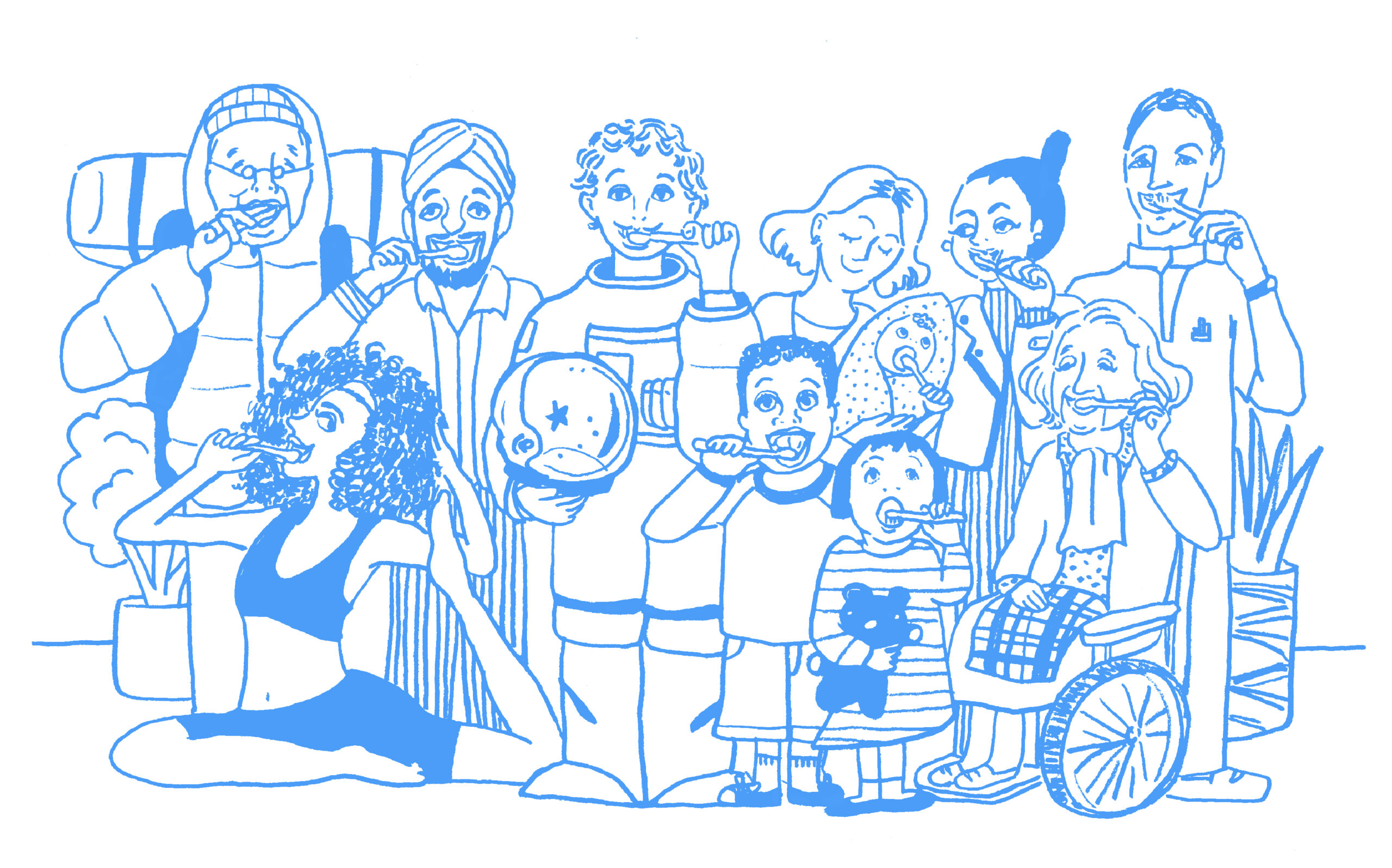 SPACE Toothpaste ORALPEACE
Toothpaste and oral care gel that can be used both in space and on earth and kind to the body and the Earth.
Chemical-free (no chemical components), Plant-based (100% plant components), 100% safe food ingredients and 100% biodegradable (body and environment) toothpaste, functional oral care product. Contains "Neonisin-e®️*".
Toothpaste・Oral care gel for the health of humankind and to save the beautiful Earth.
No Chemical substances, No Alcohol, No Foaming agent, No Abrasive contained.
Contains "Neonisin-e®️*" that cleans the oral cavity and Moisturizing ingredients.
All-in-one preventive care for your oral and dental diseases such as bad breath, decay, tartar, periodontal, dry mouth, aspiration and for your tongue and oral mucosa care.
keep your mouth clean and refreshing, healthy and peaceful.
Great for everyday use from baby to elderly, for all family members.
Useful for situations where water supply is scarce such as outdoor camping, in times of disaster and space travel.
It's highly biodegradable, environment positive and great for usage in nature such as mountain climbing.
Toothpaste・Oral care for babies to elderly, any gender and all ages.
For all humanity on the planet and for astronauts flying into the space.
Refreshing flavor of natural mint and lemon.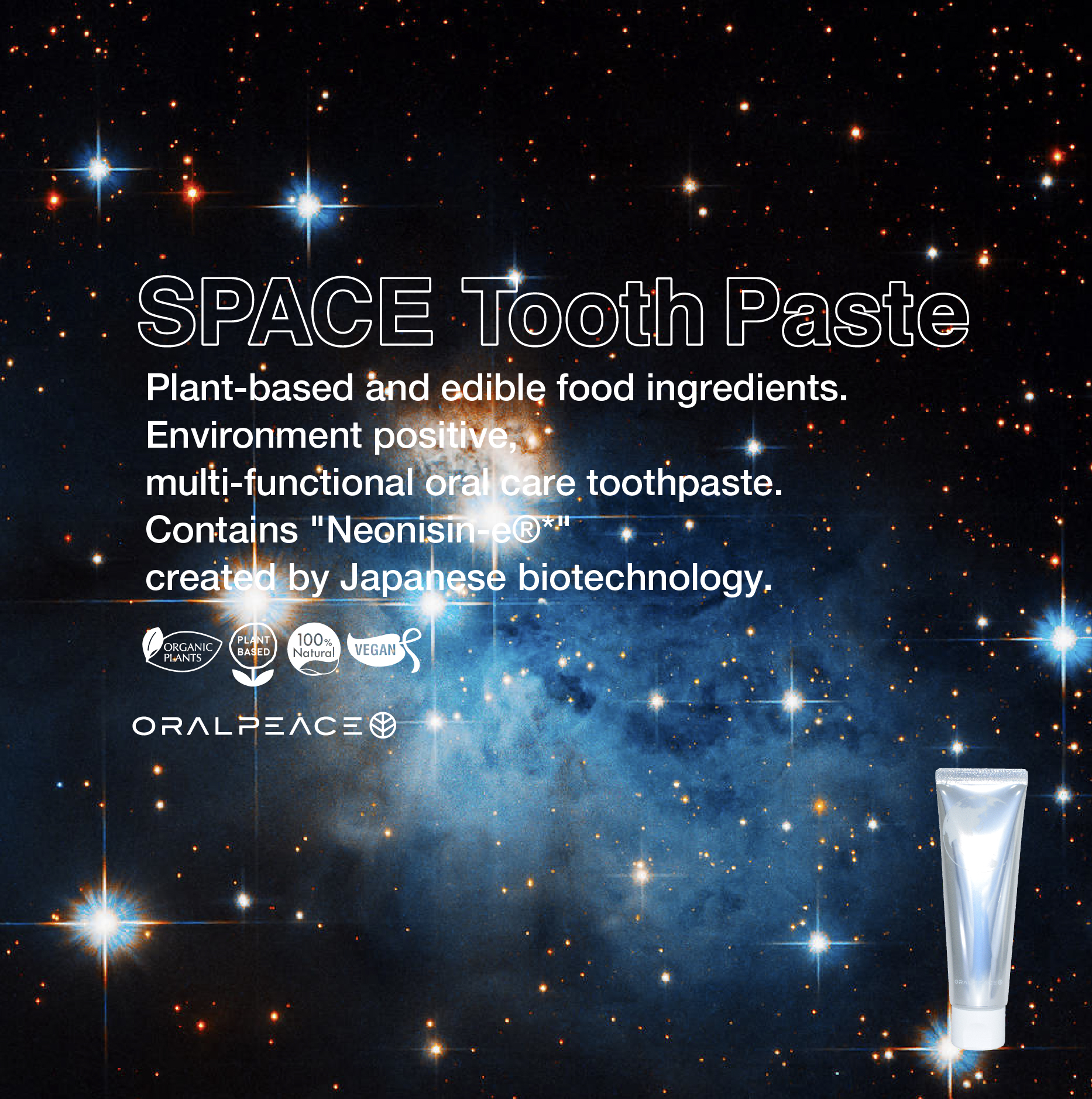 Neonisin-e®**; a patented formulation of lactic acid bacteria peptide(cleaning aid), glycerin*(moisturizer), water, xanthan gum*(thickener), mentha oil*(flavoring agent), spearmint oil*(flavoring agent), Lemon peel oil*(flavoring agent), damask rose flower oil*(flavoring agent)  *Derived from plants, **Plant-derived lactic acid bacteria
Please see the product package for all the ingredients we use.

Designed by Noriteru Minezaki ((Studio))

The following ingredients are
not used
× Ingredients not approved as food  × Petroleum derived ingredients   × Chemically synthesized ingredients
× Synthetic fungicides such as cetylpyridinium chloride (also known as cetylpyridinium chloride, CPC), benzethonium chloride, chlorhexidine gluconate, IPMP (isopropylmethylphenol), triclosan, lauroylsarcosine salt (LSS)
× Bleach and deleterious substances such as chlorine and chlorine dioxide (CIO2), sodium chlorite, sodium hypochlorite, chlorine-based gas  × Alcohol (ethanol)  
× Calcium carbonate (Ca carbonate, large particle abrasive, limestone powder, white line powder on the playground, chalk raw material)
× Na bicarbonate (baking soda, abrasive), zeolite (zeolite), coral powder, shells・Mud (clay montmorillonite) ・Charcoal (charcoal) ・Micro beads (plastic)
× Synthetic surfactants such as sodium lauryl sulfate, lauryl glucoside, cocamidopropyl betaine, and sodium cocoyl glutamate
× Soap base, soap such as coconut oil fatty acid K, olive fatty acid K, foaming agent
× Synthetic preservatives such as paraben (paraoxybenzoate), phenoxyethanol, sodium benzoate, K sorbate, PG (propylene glycol), BG (butylene glycol), etc.  × Glycine (preservatives/food additives chemically synthesized from formaldehyde and hydrogen cyanide)
× Poly-ε-lysine (polylysine, an analog of antibiotics produced by mold-like actinomycetes, preservatives/food additives)
× Phosphorus (phosphate such as polyphosphoric acid, metaphosphoric acid, pyrophosphoric acid, phosphoric acid 2K)
× Solubilizing agents such as PEG (polyethylene glycol) and propanediol
× Fluorine   × Nanoparticles  × Synthetic coloring such as Blue No. 1   × Synthetic fragrances/flavors  × Salt/Sea salt  
× Titanium oxide (Ti oxide)  × Copper/silver and other metals/heavy metals  × Phytic acid × Saccharin Na  × Arginine  × EDTA -2Na
x indigestible dextrin  × Hinokitiol × Catechin  × Mastic Resin  × Tea Tree Essential Oil  × Honey Propolis  × Coral-derived raw materials in the marine environment  × Animal-derived materials including human origin × Insect- and insect-derived materials
× Lactic acid bacteria per se (live and dead bacteria are not mixed, lactic acid bacteria derived from animal feces are not used even when producing raw materials)
*When purchasing a product to be taken by mouth, it is recommended that you make sure that you check the "all ingredients" (all ingredients that have been added) of each product before making a selection.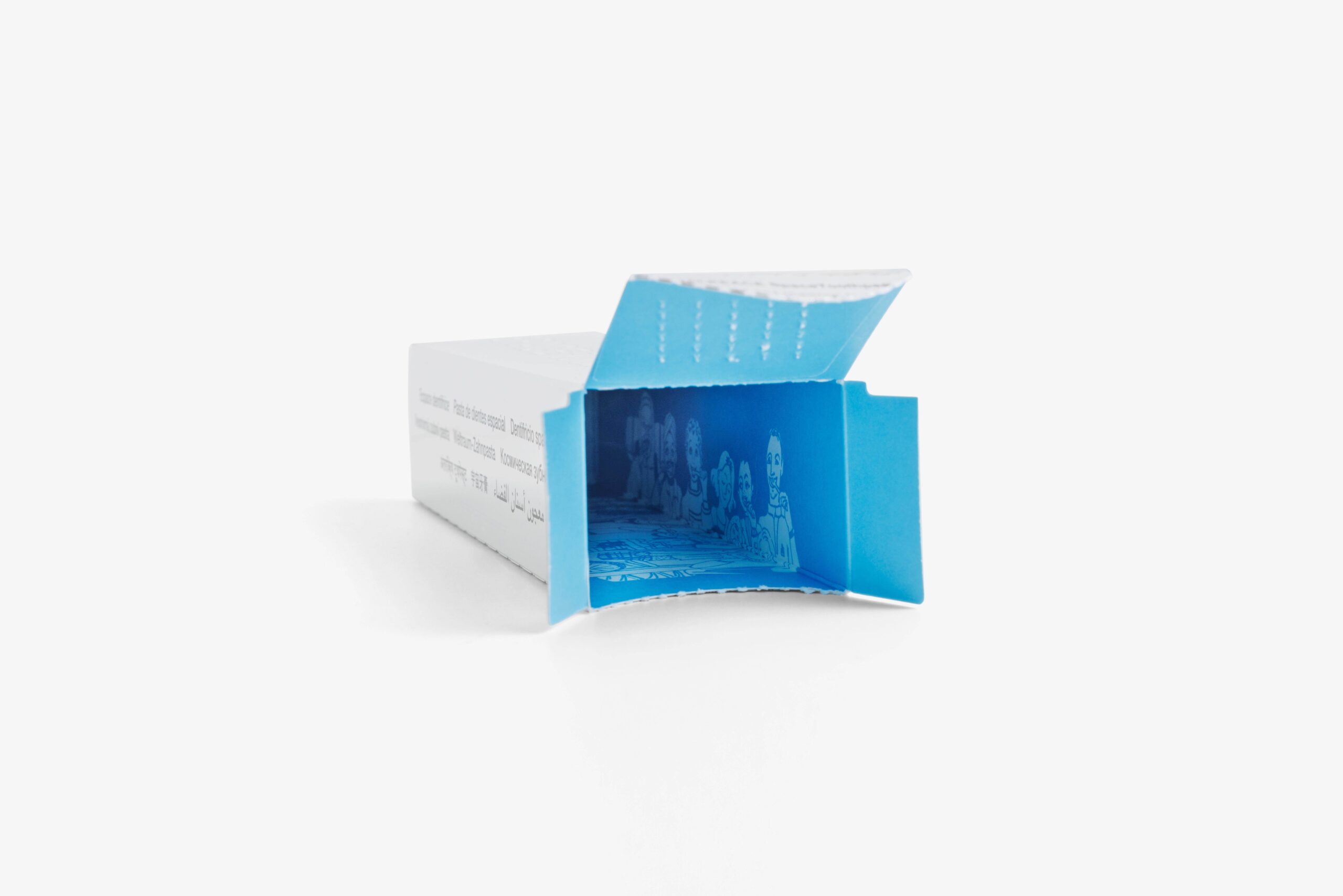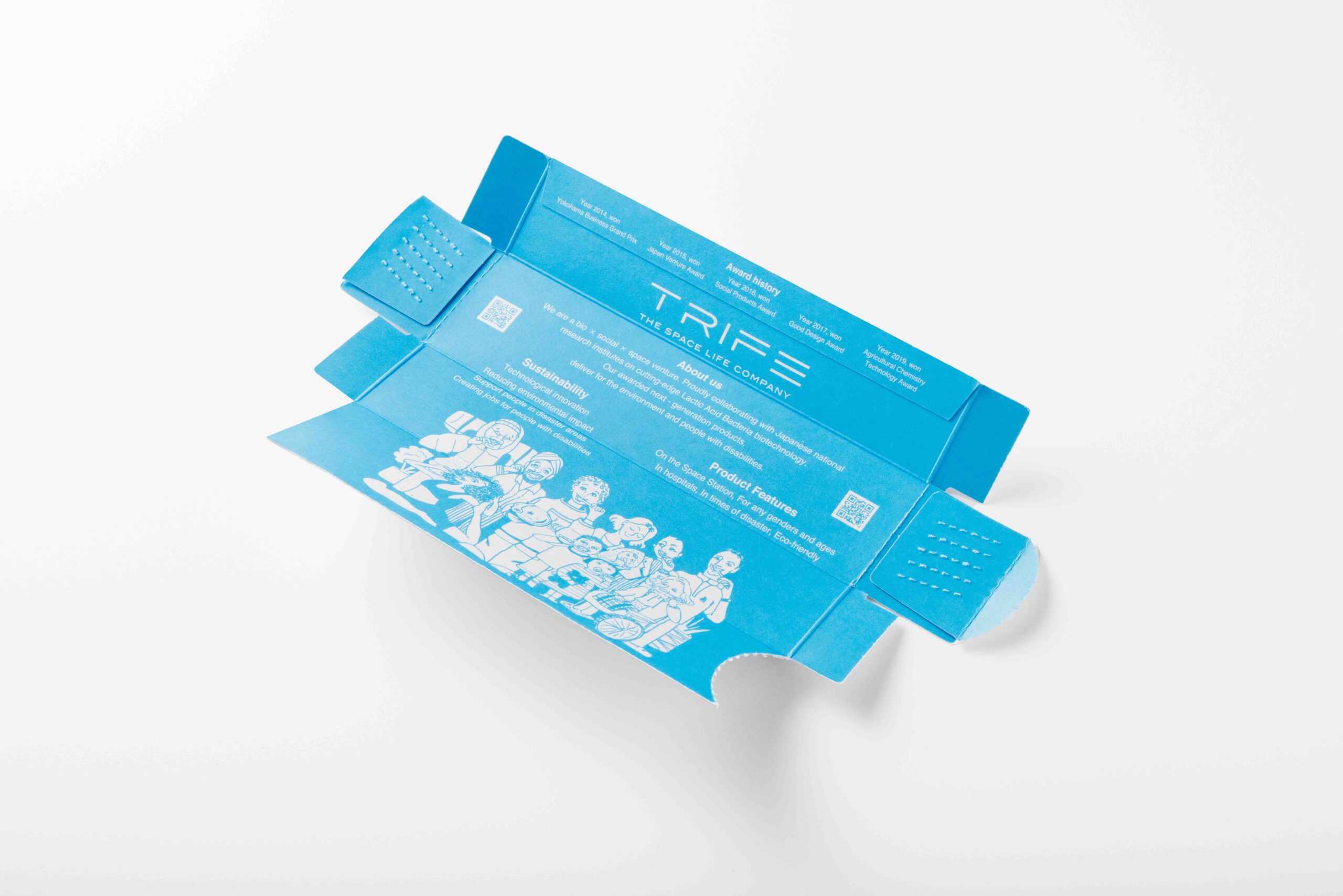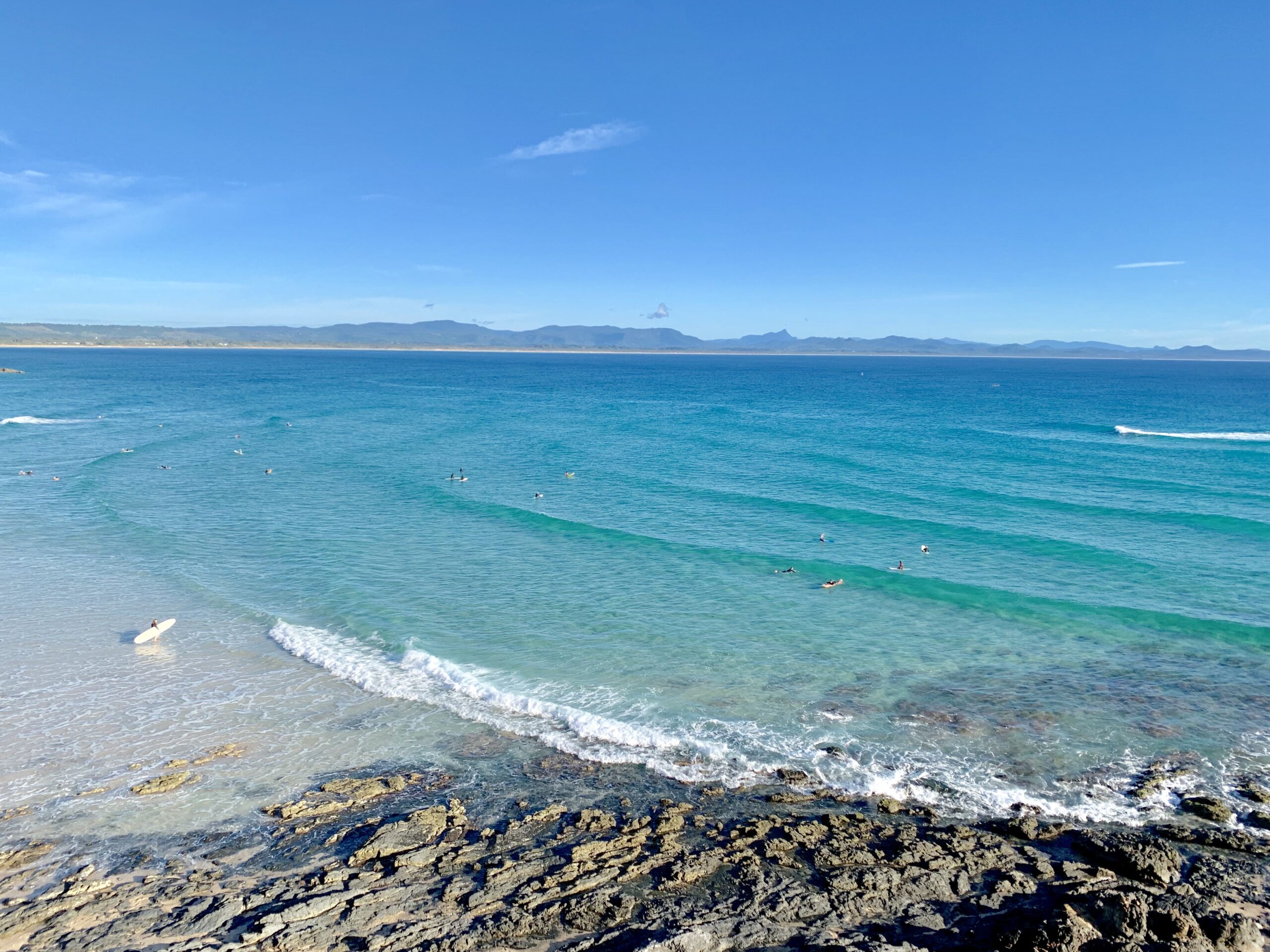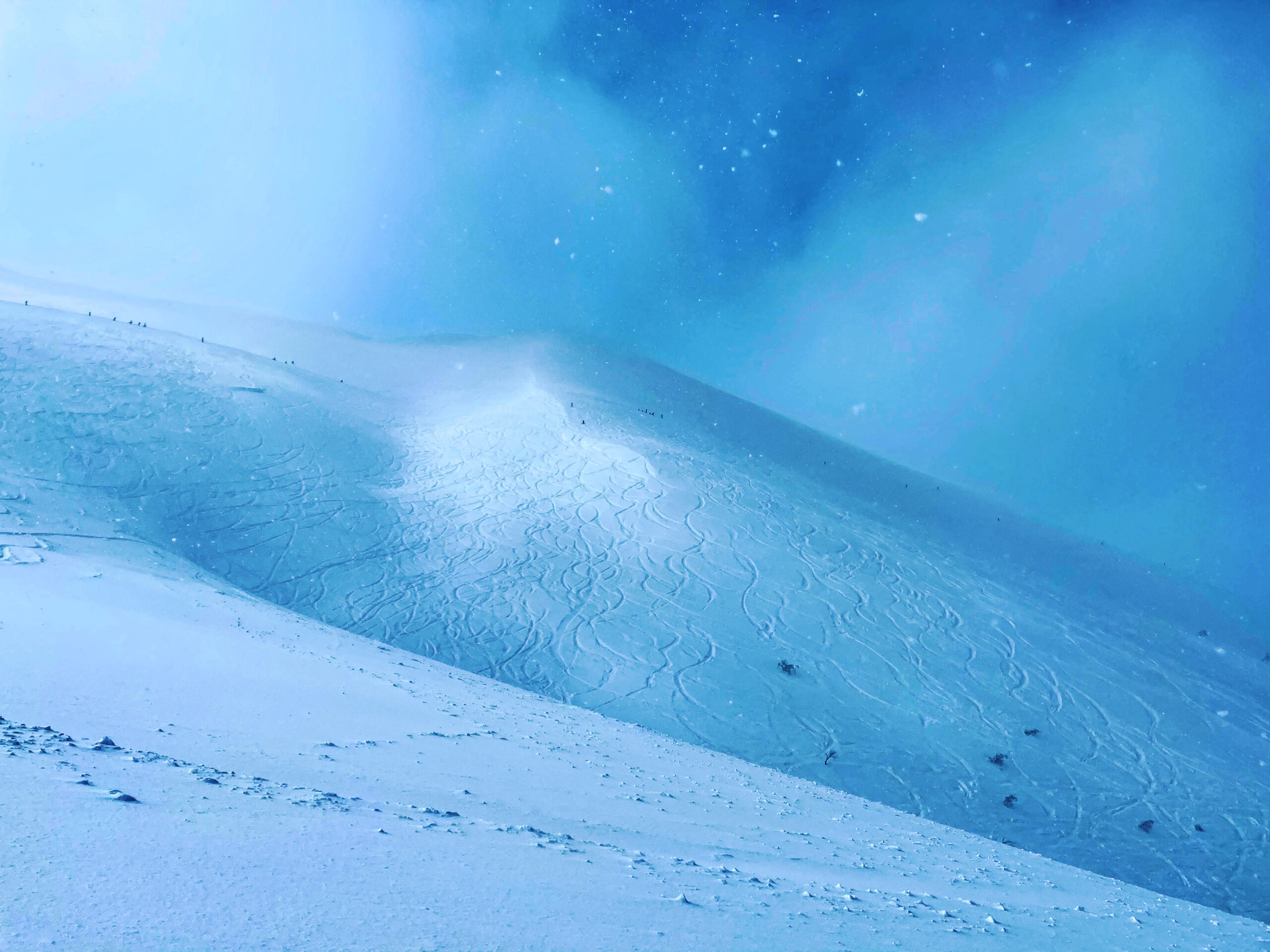 With this product only, we are able to provide total care through daily oral care and toothbrushing, including oral cleansing, oral moisturizing, bad breath prevention, periodontal care, tongue care, oral massage, mucosal care, cavity prevention, dry mouth prevention, aspiration prevention, and infection prevention care.
The patented plant-derived lactic acid bacterium bacteriocin, Neonisin-e®* (patent no. 6523473), moisturizes and keeps the mouth healthy in areas that are difficult to reach by brushing the teeth, such as the entire mouth, teeth, interdentium, periodontium, and tongue.
Containing Neonisin-e®* to prevent cavities and bad breath and provide periodontal care.
Brushing whitens teeth and freshens breath.
Oral care also prevents aspiration lung problems and keeps the dry mouth moisture and healthy.
No foaming agent, abrasive, or irritating ingredients are used, so it can be brushed thoroughly, and there is little residue of polishing. It keeps clean and refreshing feeling.
Especially before going to bed, it is recommended to clean between your teeth with an interdental brush or floss while keeping this dentifrice in your mouth.
If possible, we suggest cleaning your tongue.
It is also effective to apply a small amount to the entire mouth, teeth, interdentium, periodontium, and tongue after rinsing.
Another characteristic of ORALPEACE is that it does not damage the stomach even if you apply it to your mouth to prevent the growth of bacteria and thirst during sleeping.
You can feel the change of bad breath and refreshing feeling of the mouth when you wake up the next day after carefully caring the mouth with ORALPEACE at night.
When the mouth feels good, conversation is fun, and the air, water, food and alcohol are delicious.
Stay healthy today.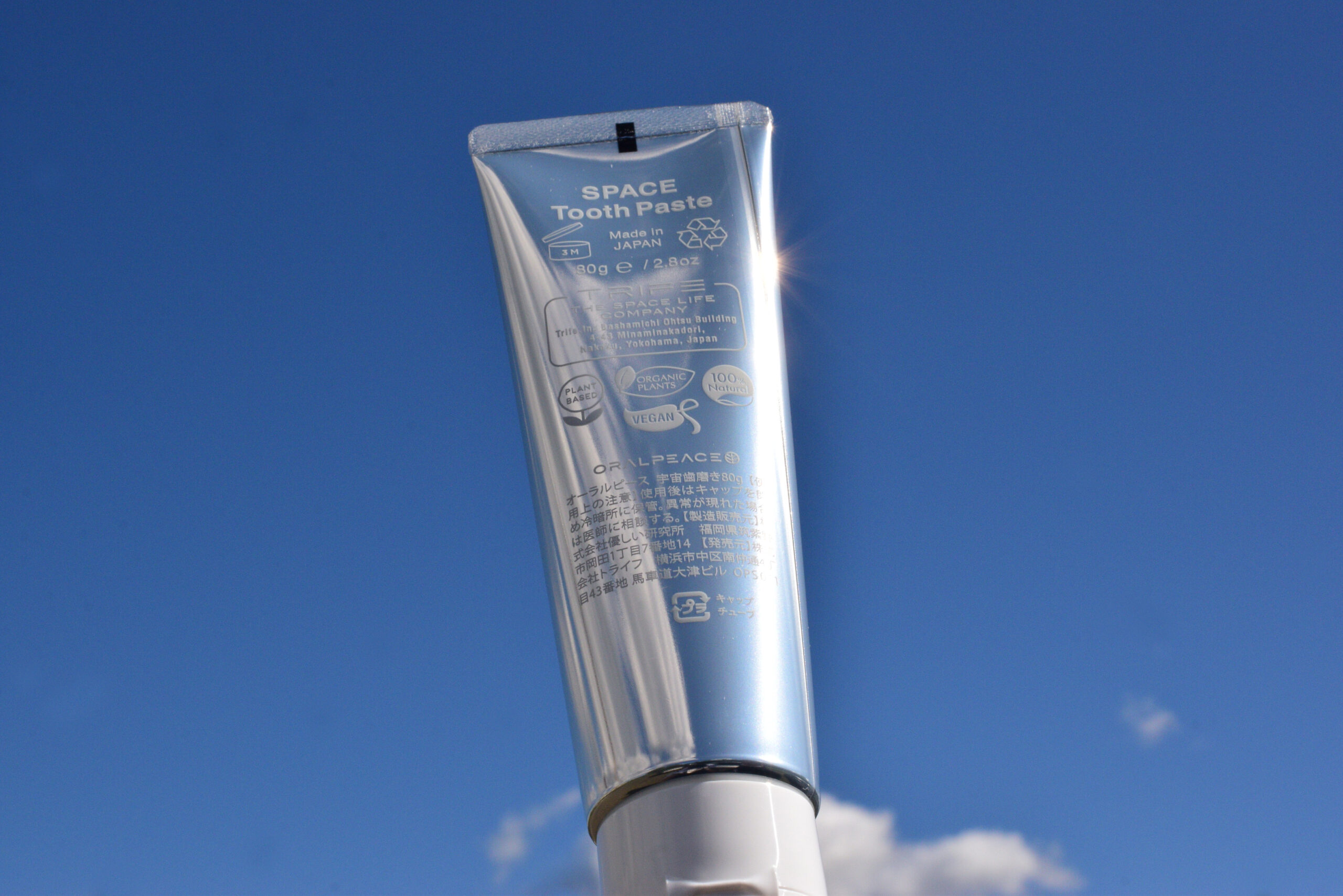 "Neonisin-e®," an original patented ingredient of ORALPEACE, formulation of plant-derived lactic acid bacteria antibacterial peptide from Japan.
"Neonisin-e®" is a patented formulation of lactic acid bacterium antibacterial peptide (bacteriocin) which was invented in industry-academia collaboration of Faculty of Agriculture in Graduate School of Kyushu University, Graduate School of Medical and Dental Sciences of Kagoshima University, and National Center for Geriatrics and Gerontology.
Their study is based on the technology research for lactic acid bacteria "to fight against bacteria by using bacteria" for 30 years by Professor Kenji Sonomoto, a doctor of engineering and honorary professor of Kyushu University, who held prominent positions such as a professor of Division of Systems Bioengineering, Department of Bioscience and Biotechnology, Faculty of Agriculture, Graduate School, Kyushu University, vice-president of Japan Society for Lactic Acid Bacteria, and president of the Society for Biotechnology, Japan.
It is produced from clean lactic acid bacteria which was discovered in plant-oriented food (protein) "soy pulp" made in Fukuoka prefecture. It is safely and rapidly degraded into amino acid while affecting indigenous bacteria on Oral mutant bacteria, Porphyromonas gingivalis (P.g) , periodontal trouble-causing bacteria, Escherichia coli, aspiration pneumonia-causing bacteria, halitosis-causing bacteria, candida bacteria, etc.
It was awarded from the "Japan Society of Bioscience, Biotechnology, and Agrochemistry Award 2019," as the first awarded oral care product Research and development of oral care products that are safe to swallow. (Patent No. 6523473)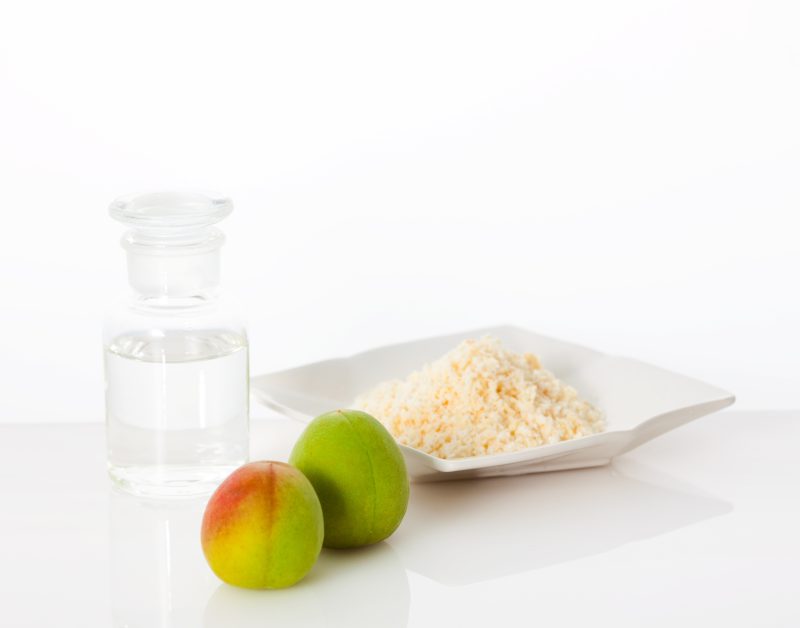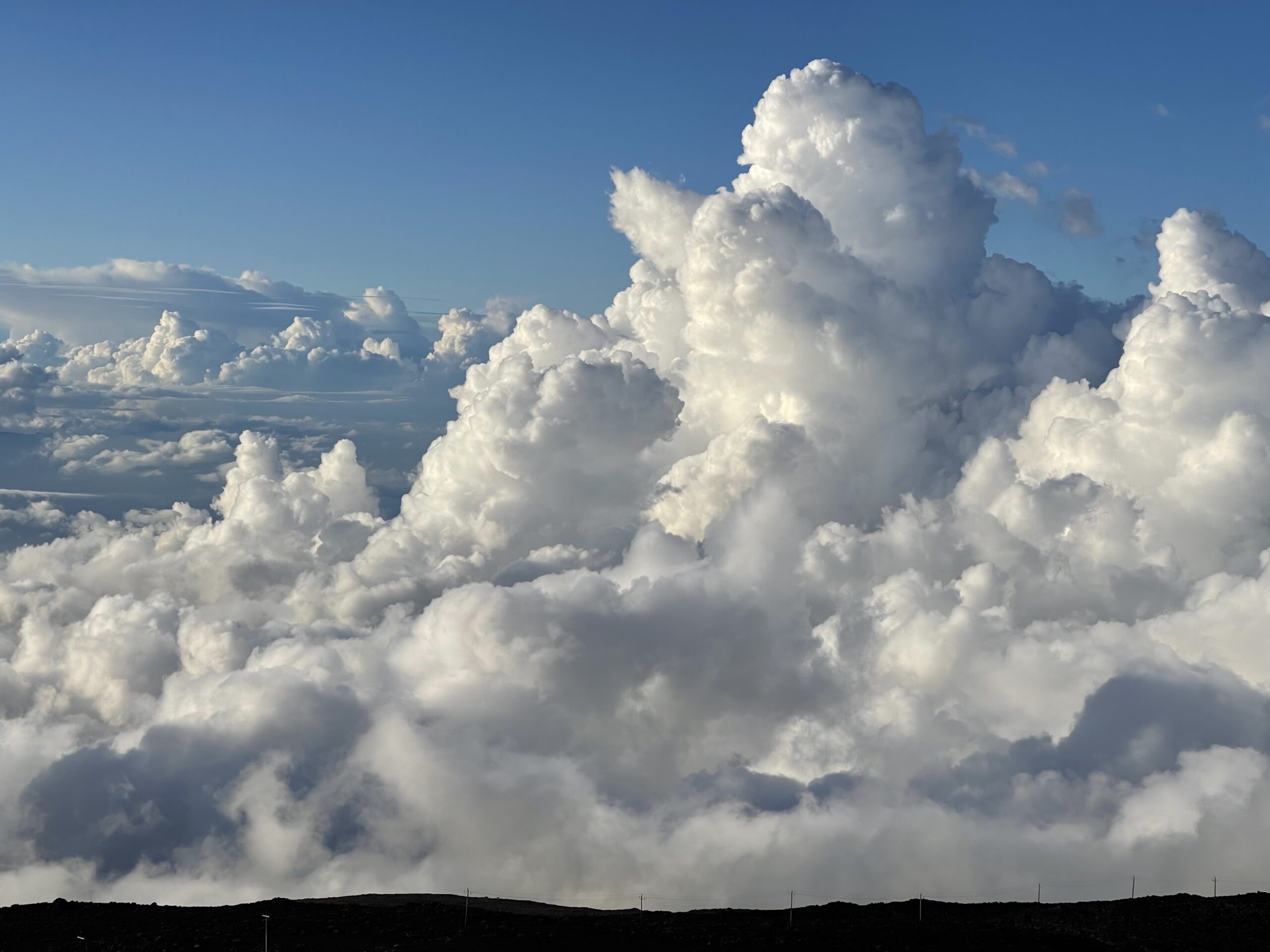 SPACE Toothpaste Development History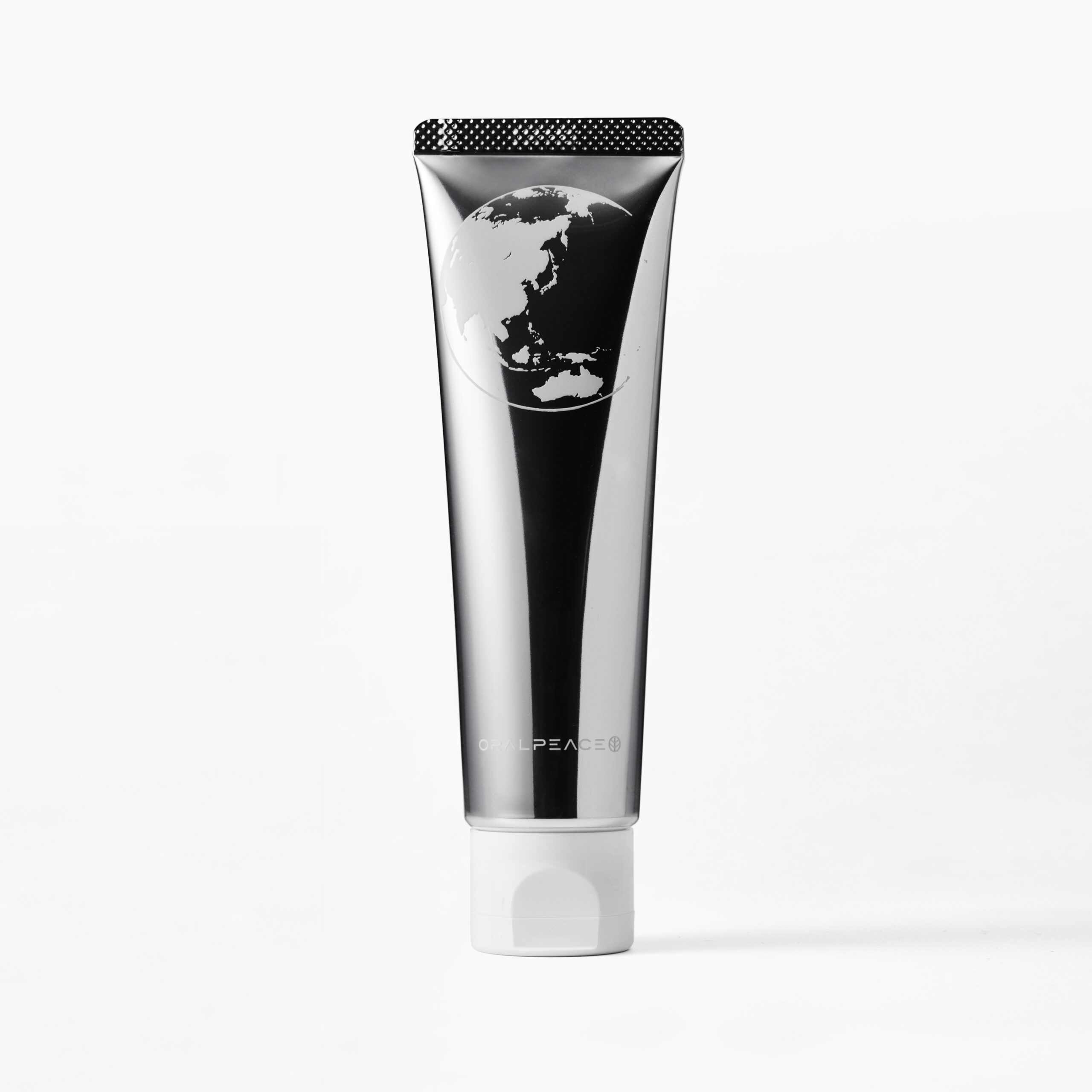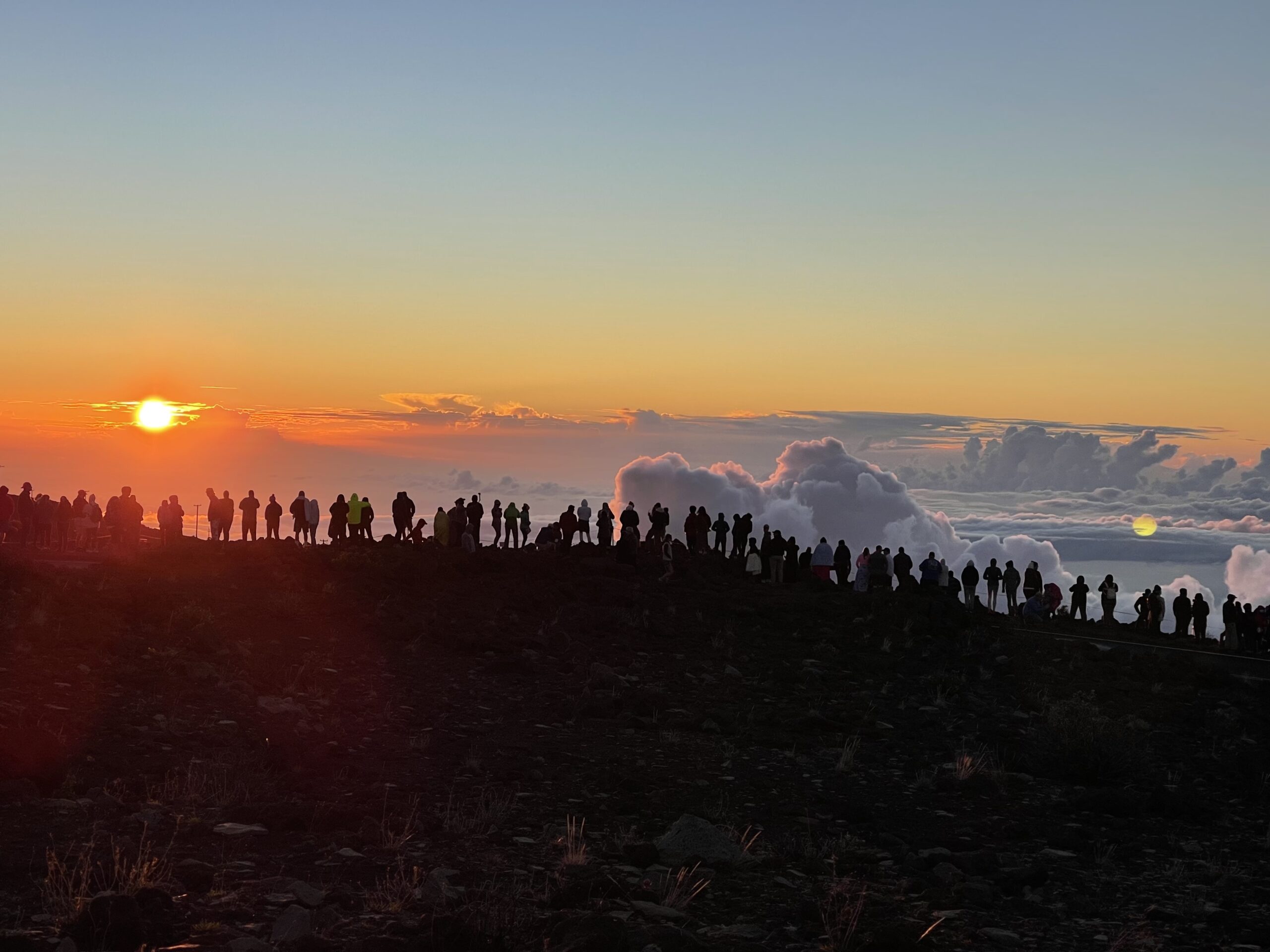 Development targets for SPACE Toothpaste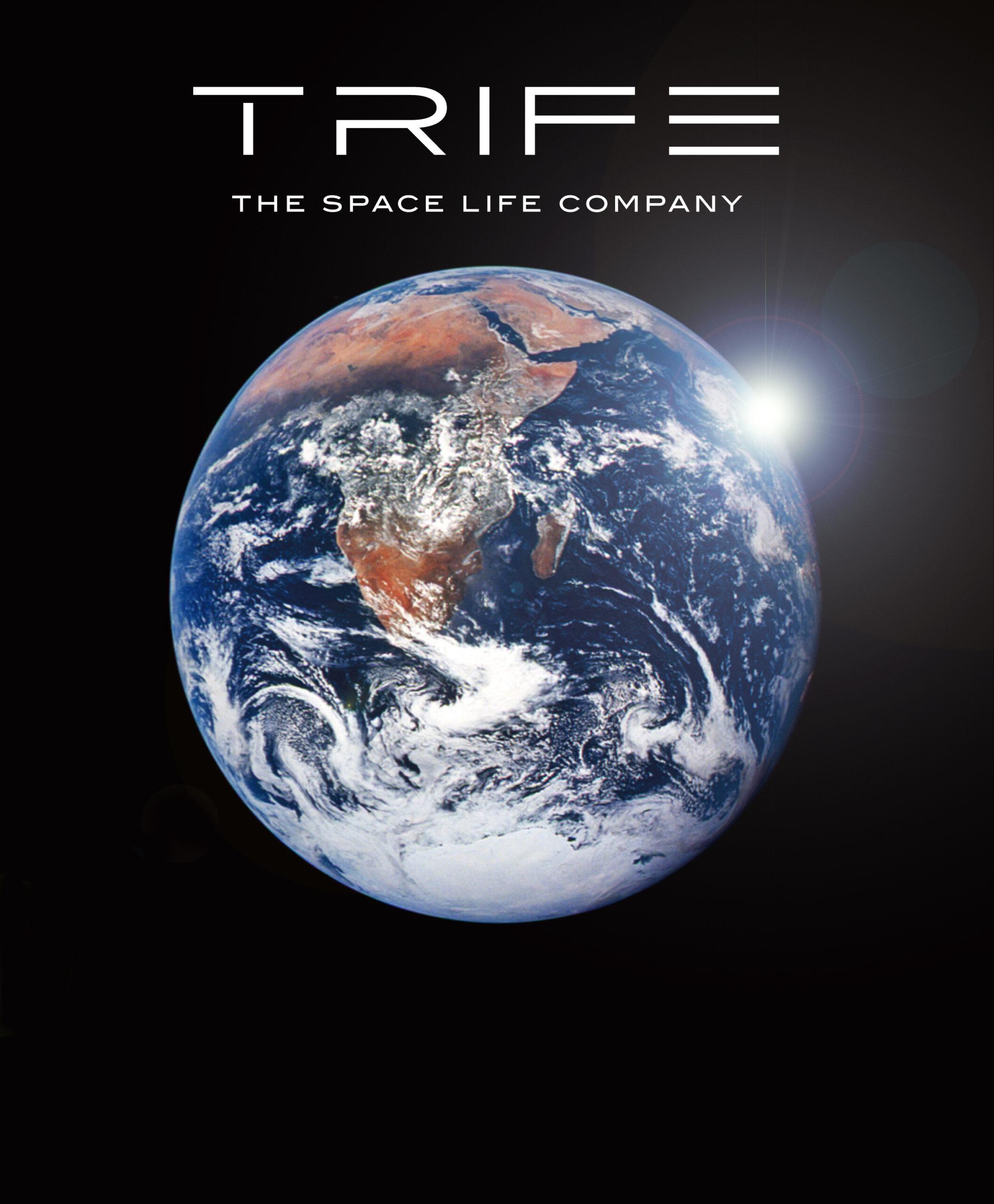 What is a Trife Space Project